After watching one of BBC 4's great new series "Arena: Screen Goddesses"my parents said "Oh, Bette, we should definitely get Stromboli." And after a seconds hesitation startled by the amount of metaphorical glitter that were just thrown at me, I responded "OH MY GOD YES, I WATCHED THE FIRST 15 MINUTES ON YOUTUBE BUT THEY SPOKE ITALIAN AND INRGID SPOKE ENGLISH AND THE SUBTITLES WERE IN FRENCH. SO SERIOUSLY I CAN GET IT?" Obviously this was the response of the cool-as-a-cucumber teen that is me. Freaking out over Italian Neo-Realist Ingrid Bergman films is well sick innit bruv. Finally got around to watching it the other day.
Just to ground you all in the setting and atmosphere under which this film was made. After watching "Rome, Open City" starring Anna Magnani, the then mistress of the film's director, Roberto Rossellini. Ingrid was so blown away by the whole style and rawness of Rossellini's direction that she impulsively sent a letter to Italy saying,
Dear Mr. Rossellini,
I saw your films, Open City and Paisan, and enjoyed them very much. If you need a Swedish actress who speaks English very well, who has not forgotten her German, who is not very understandable in French, and who in Italian only knows "ti amo," I am ready to come and make a film with you.
Ingrid Bergman
Rossellini took her up on her offer, and came to meet her and her family in Hollywood to discuss plans for
Stromboli
. There were no signs of a love affair, Roberto got on well with Ingrid's then husband Petter Lindstrom and her daughter Pia and vice versa. Little did they know that their relationship would escalate into a scandal that shocked the world.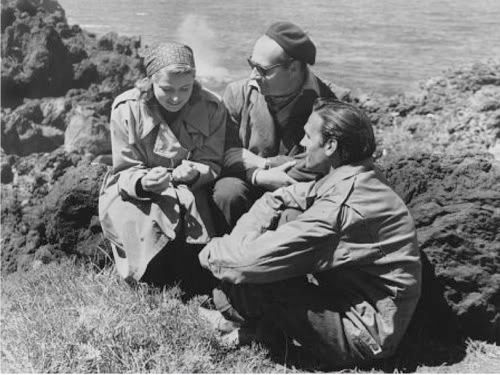 Ingrid Bergman was married to Petter Lindstrom in name only. Their marriage had ended years before Rossellini had entered the scene. This is often a fact that people forget. It was mainly Petter's fault that Ingrid betrayed him, he didn't grant her the divorce she begged for in the previous years before Rossellini. This made the entire situation look a lot more dire than it was. The gossip started when Rossellini and Ingrid were photographed holding hands in Italy when she went to film Stromboli. As they travelled to the remote island of Stromboli to film, the rumours grew and grew, yet they were in such a remote place, they heard all the news stories and malicious gossip too late to respond to it effectively. It was a nightmare for Ingrid who was also enduring a tempestuous filming regime, climbing the volcano which was a physical and mental challenge, and working with amateur actors in a language she didn't understand. Hell on earth.
The film Stromboli centres on the story of Karin (Ingrid Bergman), a Lithuanian refugee in a camp in Italy. The refugee women's main chance at escaping the camp is enticing a soldier from the neighbouring camp to marry them. Through the barbed wire that separates the camps, the women form relationships with the soldiers. After Karin's appeal to emigrate to Argentina is denied, she marries Antonio (Mario Vitale) and he whisks her away to his home island. Little did she expect this island to be a primitive and exclusive community living in a few crumbling houses around a very
active
volcano.
The isolation drives her mad. She acts petulantly to her husband at first but tries to make the best of it by cleaning her house. But she is still not satisfied with either married life or life on this desolate island. She manages to get herself into a number of compromising positions, including flirting openly with the lighthouse guard and trying to seduce the priest. She doesn't understand the way of life there. When Karin asks a member of Antonio's family why everyone dislikes her, she replies, "Because you are a brazen woman!" Karin finds out she is pregnant and (stupidly, after a volcanic eruption) she tries to flee to a neighbouring town over the active volcano but the arduous journey is too much...
This is a very interesting film. Roberto Rossellini's film style is so raw and real that you often forget that it's a drama you're watching and not a documentary. The scene of the tuna catching is incredible and awe-inspiring. The shots going up the volcano are amazing too (even if it did kill a couple of camera men to get them).
The amateur actors do especially well, but some of them are actually playing themselves. Mario Vitale does a spectacular job considering he was chosen out of two fishermen to be Ingrid Bergman's leading man. Roberto hired the two fishermen to carry heavy loads telling them that they would have parts in his film. He later picked one of them for leading man. When Ingrid Bergman asked Rossellini why he hired fishermen instead of real actors he replied "Because if I hired actors they wouldn't carry all those heavy things for me!" Great.
Ingrid Bergman's performance is believable and so utterly natural. She thrives in the atmosphere of the neo-realism, despite screaming at Rossellini in exasperation at one point during filming, "IF THIS IS REALISM YOU CAN HAVE IT." Or something to that effect. I have the all Italian archive version, but I'm almost certain that it was Ingrid's voice dubbing over in Italian. I really can't say anything I haven't already about Ingrid. I don't think anyone will ever top her in terms of acting, beauty or sweetness. I'm all superlatives. Ingrid your legend lives on through a group of teenage girls who spam the internet with your face :D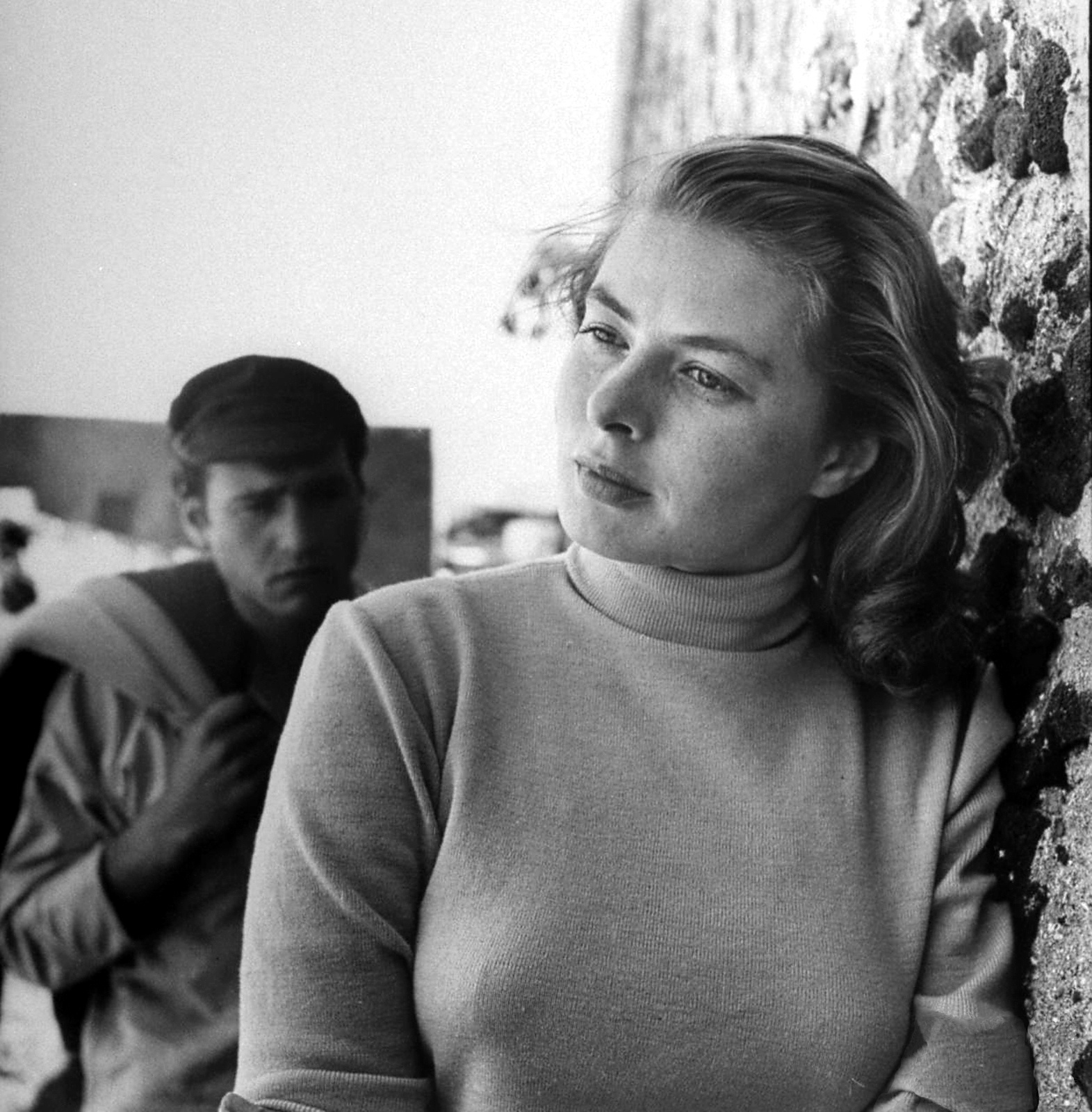 I would thoroughly recommend this film to anyone, especially if you're into foreign film (I'm a bit of a french new wave addict). Will most certainly be watching Rome Open City soon, so will post about that hopefully.
Bette